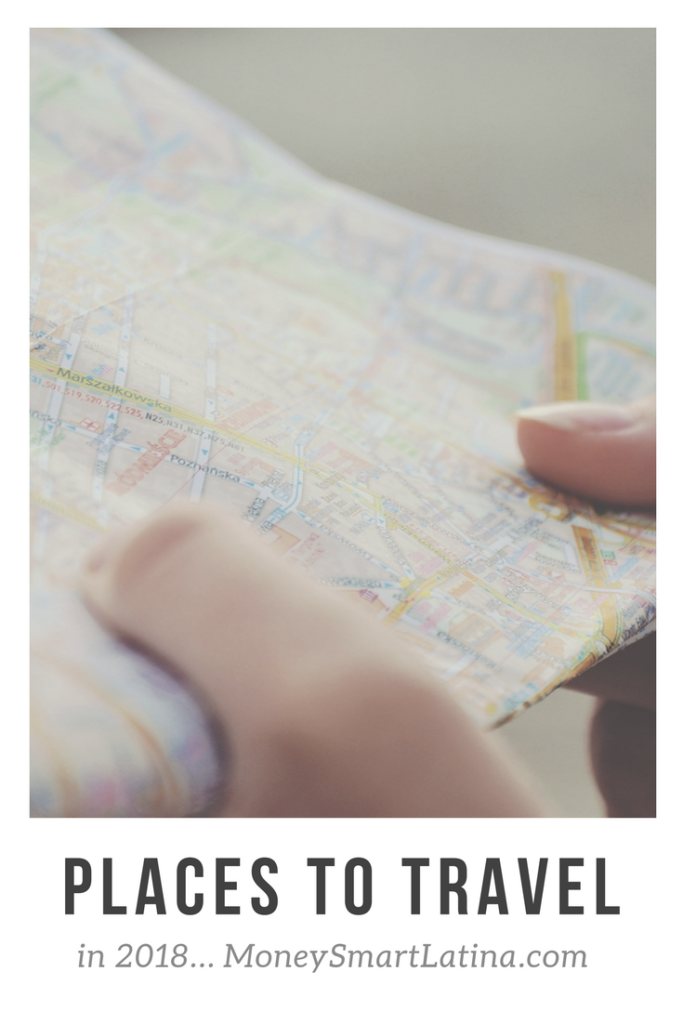 When I was in my mid-twenties, I romanticised visiting New York City. Actually, it was traveling in general. At the time, I was living off of $900 a month and had only been to a few different places in my entire life. I know looking back now that I was extremely lucky to even have traveled the limited amount I had since others aren't as lucky. But I still daydreamed about it a lot.
Fast forward to 2017, and I am quite a globetrotter. Okay, maybe I'm not spending weekends in Rome (yet) but I literally said out loud in November that I was so sick of traveling so much. I was frustrated because I wanted to take a class in person and couldn't because it would have required me to be in the same state for more than three weeks at a time. As soon as the words came out of my mouth, I felt sincerely ungrateful. Such a first world problem to even have.
For 2018, I plan on still traveling because of a few reasons. One, I am in a long distance relationship with someone I love who lives across the country. I mean literally, we are both on different coasts and timezones. We will eventually be moving in together but see ourselves still spending at least this year apart. Second, I have a lot of people in my life I love and want to see. So while I will be spending a lot of time at home so I can work on my health and scale my business, I will still be popping around to say hi to a few people.
All The Weddings & Graduations!
I have a wedding to attend in February, a graduation in May and a possible wedding vow renewal in June.
In February, my roommate is getting married! She's actually one of my good friends and we haven't lived together in years but I don't care. She will forever be my roommate, lol. I don't have to leave per say but I am still adding it to this for my budget calculations. I need to get gifts, will be attending a bachelorette party, etc. But it's so worth it because I'm so happy for her.
My niece is graduating in May from a high school that allowed her to take dual enrollment courses at the local community college. I am extremely proud of her and how well she is doing. She will probably be graduating from college when she is 20 and I can't even imagine that. My best friend (her mom) currently lives in Las Vegas so I'll be heading there for Memorial Day weekend. We decided to make a weekend of it since we live six hours apart and don't see each other as often as we would like to.
In June, I might be heading to New Mexico to see one of my other best friend's. Her husband and her are still currently deciding if they would like to do a vow renewal ceremony as once discussed or take a cruise since they weren't able to have a honeymoon. Since it's tentative, I'll be playing it by ear.
Attend gay pride in Castro
After weddings and graduations, I'll be hopping on an airplane to celebrate Gay Pride with a few friends at the end of June. I am excited to be in Castro, a neighborhood of San Francisco. Castro is very rich in LGBTQ history. Harvey Milk, the first openly gay man voted into a public office in California had his camera shop here. Last year I was lucky to be in the Castro District for the first day of Pride but not for the day of celebration on Sunday.
Attend National Seminar in New Orleans.
This trip is definitely a maybe but I am really excited about it. Every year my full-time employer has a national training seminar at different places around the country. Last year I had decided I had wanted to go before I even knew where the location would be. I'm really trying to bloom where I am planted and figured presenting at a national conference would be a great way to do it.
I will probably be here for a few days and while I'll be attending workshops and dinners, I also want to sneak away and do some sightseeing in the French Quarter. I absolutely loved New Orleans when I went a few years ago so I'm hoping I get to check it out again. One of my other best friends has discussed stopping by to check out New Orelans with her husband so I hope they can make it.
Attend FinCon in September
FinCon is an annual financial blogger conference held every year in different areas of the country. I've been going every year since 2012 and I currently help with social media for the Plutus Awards, who recognizes the best of personal finance every year.
This year, FinCon will be held in September in Orlando, FL. I've been to Orlando a few times before for other conferences so I won't be doing any sightseeing or anything but I am still excited to attend the conference. I have a ton of friends from this blogging niche so it's like summer camp. I also love networking at this conference and I actually met my BF here so it will always have a special place in my heart.
Italy in October w/ H
YES! H and I will be going to Italy for not one but TWO weeks this October. What had happened was…
We were originally going to go to Hawaii next month to celebrate our four year anniversary. H doesn't like crowds and I am obsessed with whale hunting, so we compromised on going to the island of Maui and then taking a ferry over to Lanai for a day. But… we waiting a little too long to plan our trip and the stars weren't lining up without costing us both an arm and a leg. We compromised and decided to go for our five year anniversary instead.
Since we'll be taking this trip next year, we decided for me to save my vacation time so we can spend two weeks in Italy instead of one. Fall works for both of us so we'll be going then. So much to do and plan but we are so excited and we're not going to be waiting until the last minute, lol. So far, the Vaitcan, Pompelli & drinking wine are on my list.
Christmas Family Vacation
My best friend and I will be going on our annual Christmas Family Vacation in December. This year, we will be going to Disneyland. I am excited to go as I haven't been in almost two years. Disneyland is one of my happy places so even if the Star Wars side won't be open (sniffle), I'll still be quite content!
Closing Remarks
Since I cash flow the majority of my trips with my entertainment budget, I feel pretty good about all of these except with Italy and Disneyland, which will require a bit more saving and earning power. I'm also feeling good about not traveling as much as I have in previous years. I love traveling but this year my focus is on growth, in regards to my business and health. Both require me to be as home as much as possible so I have time to work on them.
Anyone have any fun trips planned?