Editor Note: I am so happy to be sharing my first interview with a recognized Latino money expert, Louis Barajas. Special thanks to Cricket Wireless for reaching out to help out to connect millennials and Latinos with the personal finance knowledge they need to make this tax season pop. -AL
Cricket Wireless, Spearheading The Way Towards Financial Wellness
Cricket Wireless wants to help people like its customers, who are value conscious by need and by choice, be savvy with their tax refund this season. Why? Because smart money skills matter to those on a budget.
This is why Cricket has partnered with nationally recognized financial author and expert Louis Barajas. Barajas has dedicated his life to helping people achieve financial wellness by addressing the cultural and psychological barriers that prevent them from making the most use of their financial resources.  Cricket brought Barajas to the Association of Latino Professionals for America Anaheim and Miami college symposiums to help millennials establishing their careers learn about the importance of fiscal responsibility in their professional and personal lives and how each drives the other's ascension.
The Facts
Louis Barajas speaks about money through the lens of building a good life, not just dollars and cents. By Cricket bringing him to the community, people can be inspired by his words and life experiences and set off on a journey to financial greatness. Some things to note about Latinas, millennials and spending habits: 
In 2018, millennials have a new story to tell about themselves.

They are the money conscious generation that prioritizes their financial health.

43 percent of millennials intend to pay down debt with their tax refund

versus 31 percent of the general population

.
This is not a surprise Latinas. As millennials, we have grown up in the recession era. We've experienced hard times in our careers and watched our parents live through tough times as well. We've been molded by difficult economic periods and became financially savvy, and scrappy, because of it. Let's just say we know to stretch our pesos. 
That's why today I am happy to share an exclusive interview with Louis to discuss how Latinas can do their own taxes for free, say no to a forced savings plan (Adios Uncle Sam's free loan!) and why this  Latino became his own boss.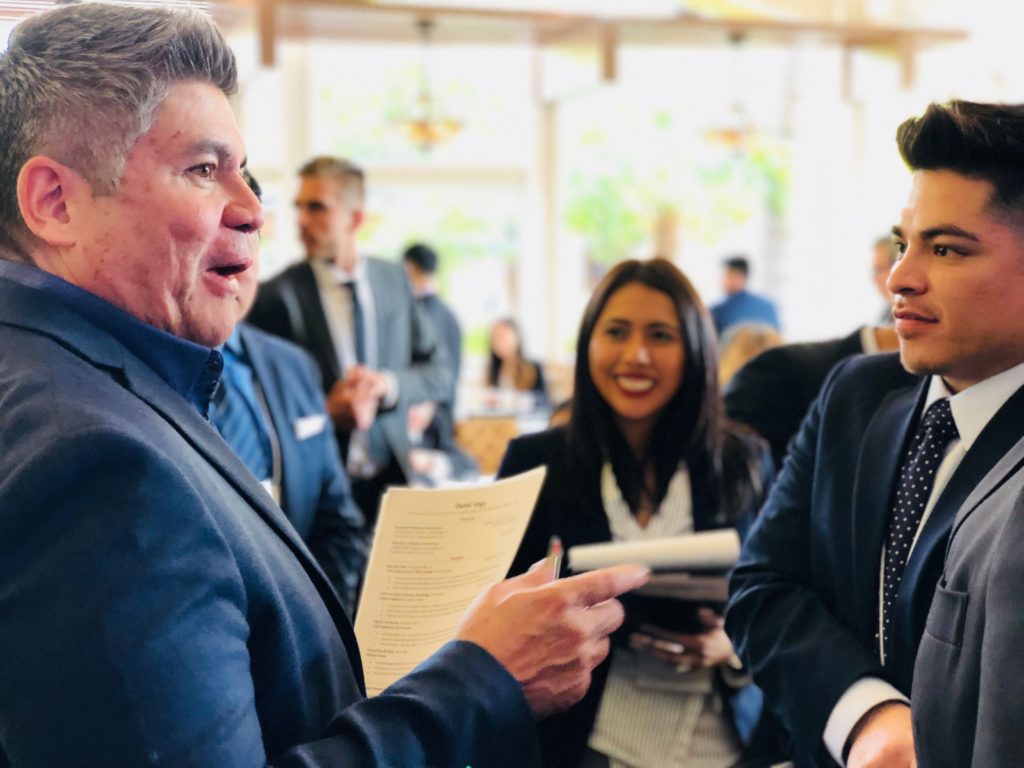 Money Smart Latina Interview w/ Louis Barajas
Louis Barajas, named by Mutual Funds Magazine and Money Magazine as one of America's top financial advisors, speaks about money through the lens of life, not just bank accounts. The author of books such as The Latino Journey to Financial Greatness,  My Street Money; Overworked, Overwhelmed and Underpaid; and Small Business, Big Life, Louis makes complex and daunting money issues easy to understand and relatable to the common person.
Athena Lent: A lot of my readers are Latinas who have parents that don't do their own taxes. I would really like them to know how to do them efficiently. When is it okay to pay someone to do your taxes vs doing them themselves?
Louis Barajas: If you don't own rental property or a business, you shouldn't pay anyone to do your taxes. United Way Worldwide and Cricket Wireless recently joined forces to offer access to United Way's FREE tax filing service, MyFreeTaxes.com, at select Cricket authorized retail stores across the country, or you can access the site from your home computer. For those that do own a business or a rental property, they absolutely need an accountant. I would hire a good CPA, because they will know way more than the average individual about tax deductions. 
AL: I just made my first appointment with mine after realizing I needed help with my taxes this year by being self-employed and setting up a new 401K through work.
Speaking of 401Ks, can you share tips for millennials saving for retirement? What should they be keeping in mind?
LB: Don't put yourself in a "forced" savings plan. Tax season is a great time to think about adjusting your W4s so that your employer withholds more or less federal income tax from your pay. The more allowances you claim the less is withheld. A lot of people like to do the opposite so that they can get a bigger tax refund. Many people view their refund as money the government is giving them versus a return of their hard-earned dollars. Uncle Sam holds your money at zero percent interest. Withhold less money and stream those funds to an account that generates interest, like an Individual Retirement Account. Make sure your money is working for you, not sitting still.
AL: There is nothing quite like the power of compound interest and you definitely can't get that with Uncle Sam! 
Can you also share about saving more in retirement so millennials have less taxable income and a less of a "forced" savings plan? I'm actually insanely proud that my refund this year was $1! 
LB: For millennials, it is important to think about retirement because many of them want to become entrepreneurial – so they need to be very intentional about their future. Sixty-seven percent of employed millennials want to leave the traditional work structure and become self-employed. Self-employed individuals and anyone for that matter can fund their own retirement while lowering their taxable income. They can put money into a SEP-IRA (Simplified Employee Pension-Individual Retirement Account), which is a method to contribute toward their retirement savings and ultimately gives them an additional tax deduction. The great news is you have until the October 15th tax extension to put money away for retirement and save on your 2017 taxes. For those who are not self-employed, contributory IRAs are a way to lower your taxable income and save for retirement, but those must be done by the April tax deadline.
AL: I love that we are started to see more diversity in personal finance.
Louis, what motivated you to lead one of the only Latino-owned financial firms?
LB: I had some life changing events happen to me while I was managing the money of some of the wealthiest people in the world inside one of the big financial firms. When those things happen, you tend to want to make a big change and live your truth. So I returned home to East LA in 1991 to form a wealth and business management firm and help hard-working men and women, who because of a lack of information or understanding, often made bad choices with money. I created a special financial framework to help people create wealth and use their money to live a better life.
AL: One of my life passions is connecting readers to actual resources they can use. Could you share what your inspiration was behind writing some of your books, such as "My Street Money"? 
People were fed up with financial experts going on and on about the woes and winds of Wall Street and Main Street. But no one was talking about their street—about how to take care of their family and provide for their future. Oftentimes, families never get the attention they deserve.  I wanted to give them a common sense, down-to-earth guide to using money to help create the secure and happy life they want. MY STREET Money is "street-wise" book that talks about real people's real financial goals, dreams, and challenges.
AL: Louis, thank you for taking time to share your wisdom to help Latinas and Millenials alike gain the knowledge they need to help make empowering financial decisions! And special thanks to your partnership with the Cricket Wireless Millenial Tax Campaign. 
Does anyone have any questions for Louis? Did you do your taxes yet? Let us know in the comments!