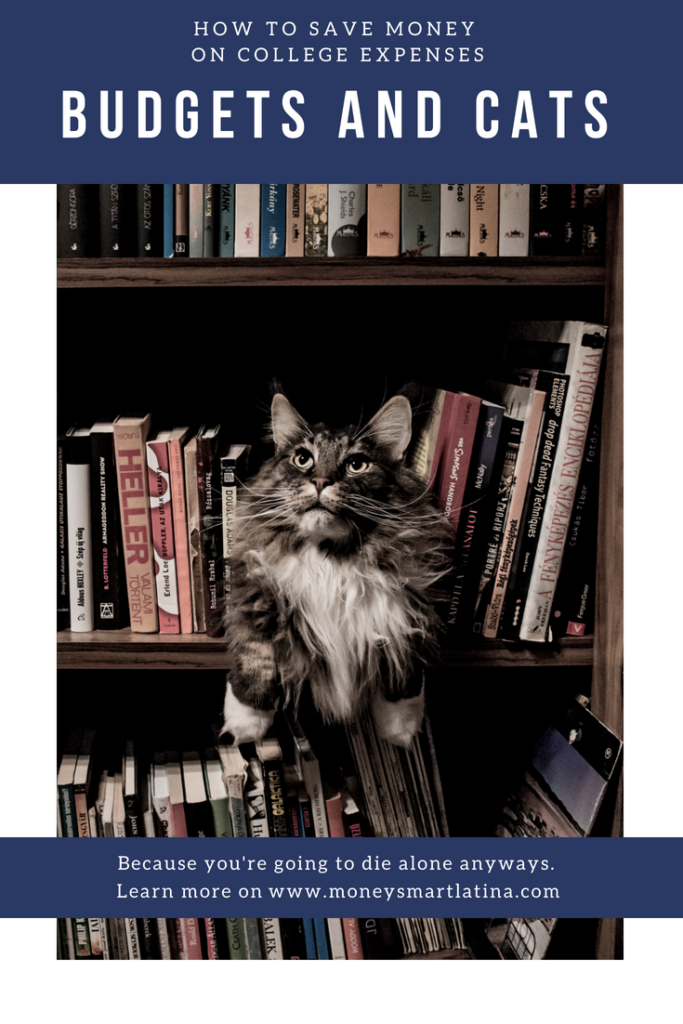 I remember happily, but very naively, skipping down to the financial aid office my first semester of school. Why yes, I DO need extra money and will take out the maximum amount for my student loan. As someone who had only been making minimum wage, the idea of excess cash excited me. It was gone soon, don't worry, but it wasn't until I was much older that I was consistently trying to save money on college expenses.
Forbes has reported that the average college graduate belonging to the Class of 2016 has an estimated $37,172 of student loans. That's pretty extreme but seeing how I just left Arizona State University, easily believable. Without books or any other expenses, my tuition was over $5,000 a semester. When my tuition increased, I knew it was time to see how I could save money on college expenses, anyway I realistically could. My cat was, of course, along for the ride so here are some tips we've collected to share with you.
Figure Out Tuition Basics
The top way to stay on top of being in the least amount of debt possible upon graduation is to figure out how your tuition works and how you can maximize it as much as possible. For instance, some colleges and universities have a flat semester fee if you take an x amount of credits. Let's take Arizona State University for example. My tuition costs tapped out at $5,000 a semester, which was 9 credit hours.  This included free access to the technology labs, the student center, the gym, library including online periodical articles needed for research papers more.
But because my tuition was already tapped out, they couldn't charge me any more for any additional credit hours I chose to take. This meant I was able to take up to 15 college credits a semester without paying any additional tuition and cut a semester off my timeline towards graduation. I was able to save $5,000 this way. I also highly recommend passing your classes.
Books, Books, Books
My first piece of advice when looking to save money on college expenses its to research what books your professor has listed on your syllabus. Sometimes, the book that is listed isn't even required but instead, recommended reading. Recommend reading is to help you understand the class material but I'm a firm believer in Google. If the book is required, you have options.
First, find the ISBN located on the barcode on the book. Then check the first few pages inside the book to see what edition is listed.  Copy it into Google and see what options the search engine has provided. Nine out of ten times, the textbook is going to be cheaper on Amazon. Fellow students are looking to push their textbooks on someone else to help recoup some of their costs as well as declutter. Who really needs a copy of "The Pattern Of Flight For Eagles"? I mean, unless eagles really are your thing. Then go for it! Don't forget to look at search engines and used book store websites.
Buying books secondhand is not only great for your pocketbook but better for the environment. I don't mind secondhand books unless they have entire pages highlighted or the book is in horrible condition but I've had pretty good luck. The only time I would recommend using your college bookstore is if the professor has added material which can only be found there or if you can break even by renting. I've done this a few times because not even making a guaranteed $5 on Amazon at the end of the day was worth my time when I had finals.
Say No To The Parking Pass
Colleges will push you to pay for a parking pass. Don't be afraid to say no, do research and then see if it may still apply. Chances are, you need to pay for parking. That's a no brainer. But we're trying to save money on college, so let's evaluate this. Say your parking pass is $500 (yes, that's a cheap one.) That allows you to park in a certain parking lot, as much as possible. But what if you aren't attending class everyday? What if you were able to somehow park for $2 a day and you only attend class twice a week? Doesn't paying $64 over the course of 16 weeks sound much better to you?
I'm not saying it will be this cheap all of the time but really evaluate your options before handing over your cold hard cash. You can always take public transportation, park off campus is it's safe for both you and your car, or just pay by the hour. The parking pass may truly be your best option but you don't know until you try.
Really Consider If Dorm Living Is For You
I never got to live in a dorm which is the one thing I regret about my college experience. And for some of us, we have no choice due to moving out of state to attend school. But, consider if living in the dorm is the cheapest option for your current stay. It can be up to several thousand dollars to live in a dorm while you share a bathroom with several other people and it might not even include a meal plan.
Look into alternative living arrangements like living with a roommate, getting an off site apartment or perhaps even attending school locally to still live at home. Sure, you may regret that living on your own experience (which I do) but you might not be like me and just be happy to not be paying a arm and a leg. You'll have time to live on your own later in life without it causing you to take out loans.
Pay Attention To Small Details
Another hot tip to save money on college expenses? Pay attention to small details or what some call money leaks. I took a break from getting my associates degree and my bachelors, which required me to get into a new routine. This was especially true since during my first degree I only worked part-time. Not only did I start to treat myself to Starbucks more often because I was sleep deprived, I was also pulling through a drive through window 3-4 times a week for dinner. No wonder I started feeling so crummy.
Start packing coffee or your energy drinks (bought in bulk of course!) to class instead of rolling through Starbucks. Pack yourself plenty of snacks to help stay full throughout the day. And pack your own water bottle instead of relying on the vending machine. You'll stay hydrated, full of energy and can concentrate on that lecture since you won't be hangry.
Take Advantage Of Anything Free!
My last tip I want to share is to take advantage of anything free. Well, within reason. You don't need to help yourself to a million pens. But there is a ton of stuff at your convenience to help lessen your costs.
Student unions and clubs offer free meals and give advance notice of when it will be taking place. Save on a dinner or lunch and check it out. Perfect your resume and practice your interview skills with your school's job placement center. Visit career fairs even if you're not looking and collect swag while seeing what opportunities may pop up. Score free entertainment from the library or attend free film and show viewings.
Some Final Thoughts
College is expensive, there is no doubt about it. But the investment in your education will pay off in spades later. No one can ever take away your education and along with it, your earning potential. And while you may not be able to escape free and clear, there are ways to save money on college. Keep this guide on hand and reference when needed!
What are some of the ways you've been able to cut costs on college? Share below!